Nothing is more delicious than snacking on some junk food in between meals. Kids from the Philippines love snacking, just like any kid does, on the local snacks during breaks.
There are a lot of snacks to go around, and there are a a lot of brands to try out. While the Filipino brands
aren't as widely popular as American brands like Cheetos, Snickers, and more, they still bring a sense of nostalgia to those have eaten them as a child. Plus, kids and kids at heart who have never tried them will appreciate its uniquely Filipino flavor.
Here are 5 Filipino Snacks Of Your Childhood Dreams worth trying out.
Nagaraya
These are very similar to cracker jacks as the snack has a crunchy hard-shell with a peanut center. The snack is delicious and can easily be consumed while working or studying. Nagaraya comes in different flavors like: Original, Adobo, Garlic, Barbecue, and Hot & Spicy.
Image from Amazon
Ding Dong
If there is trail mix in the United States, there is Ding Dong in the Philippines. This is the Pinoy trail mix version filled with savory
food like crunchy green peas, peanuts,
corn chips, curls, and corn bits.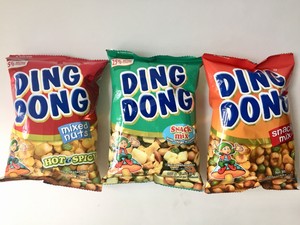 Image From Ebay
Yan-Yan
This will satisfy the sweet tooth and imagination of any Filipino. The Yan Yan biscuit snack consists of rod like biscuit crackers and a dip of chocolate, strawberry, or vanilla flavors.
Image From Amazon
Chips
There are so many chips that are perfect for snacking and satisfy the Filipino palate. There is Rinbee, Crackling, Piattos,
Tomi, Kirei, Fishda, and so much more. They come in the standard pack of 50 to 70 g and are much smaller, and cheaper, than American chip brands.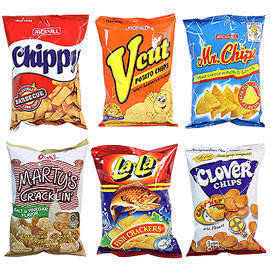 Image from Spot.Ph
Iced Gem Biscuits
These small biscuits are topped with colorful frosting and come in small packs. They are a standard snack for kids and still incite nostalgia amongst adults. A unique way of eating this is by eating the frosting first then the biscuit.
Image From HomemallPH
Give in to those childhood dreams and get a taste of these delicious Filipino snacks.